Urban Water Management for Climate Resilience
Cities across the globe are increasingly facing water-related issues like flooding, depletion, pollution, or droughts. Which approaches and best practices are being used to manage these and make water available as a local resource? What data is available and how can it be used for urban planning? On November 19, MGI held a webinar to discuss these challenges and solutions with a panel of international experts on the topic "Urban Water Management for Climate Resilience".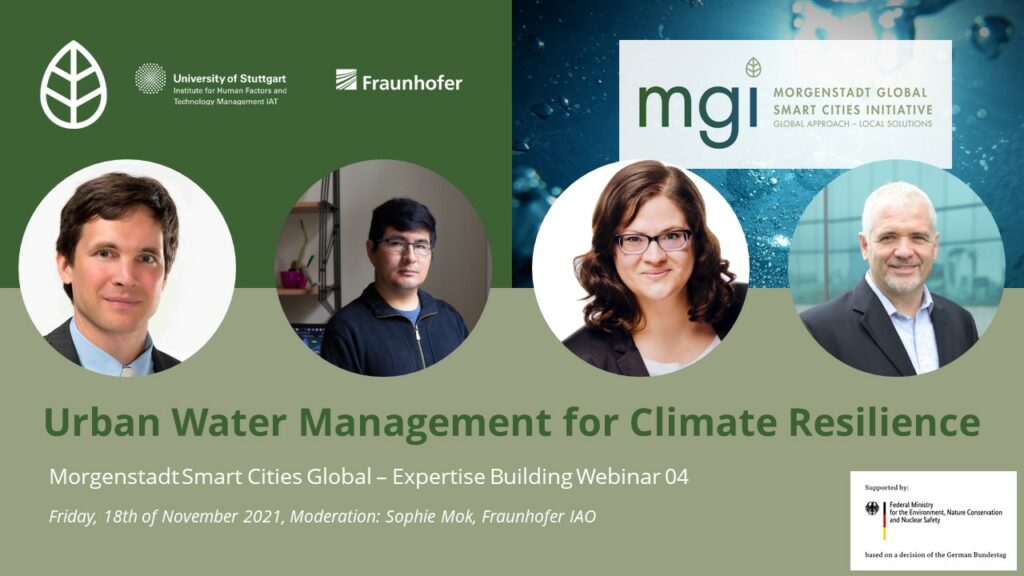 Approaches to Urban Water Management
Head of MGI Climate Resilience and Capacity Building Sophie Mok from the Fraunhofer IAO opened the session with an overview of water related risks and challenges in the context of the MGI pilot cities Kochi, Saltillo, and Piura. Expanding on the topic, City Lab Kochi Leader and Water Expert Dr.-Ing. Marius Mohr from the Fraunhofer IGB highlighted the implications of urban water management for climate resilience by presenting various projects. Among them was the project "Sustainable Neighborhood" in Kochi, in which 200 mainly residential houses are to be endowed with solar power, wastewater collection and treatment, as well as green infrastructure and rainwater collection. He emphasized the necessity of applied research and field work to address extreme weather patterns, which lead to the opposing extremes of flooding as well as water scarcity. Participants attending from Mexico, Germany, and Peru identified heavy rainfall and flooding as well as water scarcity and droughts as the main risks their cities are facing today. Consequently, there was particular interest in the results as well as scalability of the presented German projects concerned with blue-green infrastructure for storage of stormwater and cooling or the agricultural reuse of wastewater.
Acquisition and analysis of precipitation data in Peru
The second input presentation was held by Mechthild Becker and Carlos Fernandez Palomino from the Potsdam Institute for Climate Impact Research (PIK). Their project "East Africa Peru India Climate Capacities" aims at the co-production of user-oriented climate services to better adapt to climate change and to strengthen resilience against disruptive weather phenomena on a national, regional, and local level. Peru's complex typography and landscapes with coastal deserts, semi-arid landscapes as well as montane forests and rainforests requires innovative approaches to gather and evaluate precipitation data and datasets. The evaluation of long-term precipitation datasets allows for water budget estimations and resource management. To that end a gridded precipitation dataset "RAIN4PE" was developed that will soon be available publicly. In the follow-up discussion the potential use of these data for early warning and prediction systems under the precondition of available real-time meteorological data was deliberated as well as applicability in the context of river basins and possible implementation on a city level.
Water supply in Monterrey
The third input presentation was presented by Prof. Jürgen Mahlknecht, who shared results from a research group of the Tecnológico de Monterrey. Monterrey's rapid urbanization in recent years as well as the city's dependence on occasional water events for water supply puts enormous pressure on water services. He explained the city's hydraulic infrastructure, which is equipped with aquifer units providing the city with groundwater and storage tanks stabilizing the water supply during droughts, distributing water throughout the different parts of the city though pipelines. In addition, Prof. Edmundo Molina-Perez reported on a project conducting an analysis of long-term trends and vulnerabilities in Monterrey's water management in order to help design a long-term robust water strategy. Scenario-based and adaptive planning was highlighted as crucial for urban water management in the ensuing discussion, which also pointed to the increasing importance of utilizing local resources and therefore innovations in groundwater and wastewater treatment. Another important aspect that was raised was that a given city always has to be seen in its regional context, for example in taking an integrated approach between urban and agricultural water use, in which more efficiency in one area frees up more resources in the other. Furthermore, raising consciousness within the population for the topic was highlighted, as especially in areas with very good water coverage service, water is not perceived of as a limited resource.