MGI Stakeholder and Solution Workshop in Kochi
On January 22, 2020, representatives of the University of Stuttgart and the Fraunhofer-Gesellschaft in collaboration with Cochin Smart Mission Ltd. held a stakeholder and solution workshop in Kochi as part of the Morgenstadt Global Smart City Initiative. Almost 50 stakeholders came together to discuss project ideas in the water, energy and housing sectors.
Dr. Marius Mohr, leader of the City Lab Kochi (Fraunhofer IGB), presented the project ideas in the water sector. The ideas for the energy sector were presented by Gerhard Stryi-Hipp, head of the Smart Cities group (Fraunhofer ISE). Matthias Winkler (Fraunhofer IBP) presented the results in the field of building and living.
A common theme that emerged was the challenge posed by density and scarcity of space, which will play a major role in the development of sustainable solutions. After the tea break, the participants were divided into three groups according to sectors to discuss the project ideas and possible barriers and thus understand the position of the stakeholders. The main results of the exchange were presented by the sector experts, and the role of community participation and coordination of local government authorities was highlighted to ensure the success of any upcoming project.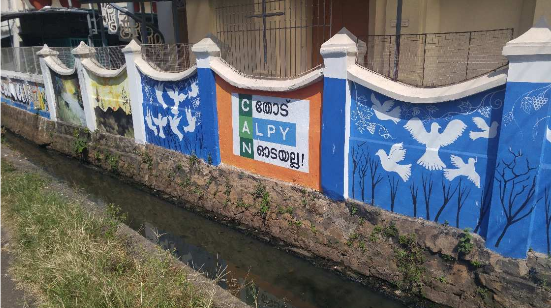 A team from the International Urban Cooperation (IUC) as well as representatives of the German Society for International Cooperation (GIZ) and the World Resources Institute (WRI) also attended the workshop to report on their work in Kochi.
A panel discussion led by Dr. Rajan Chedambath, Director of the Centre for Heritage Environment and Development (CHED), explored the possibility of close cooperation for improved outcomes in the city. At the end of the workshop, Dr. Markus Schwegler and local MGI coordinator Dr. Debjani Ghosh of NIUA underlined the most important steps to be taken in the coming months to achieve the project's goals and thanked all stakeholders for a fruitful discussion.